The Men of African Descent and Carcinoma of the Prostate (MADCaP) Network, is collaborating on epidemiologic studies to address the high burden of prostate cancer in this population.

The African Esophageal Cancer Consortium (AfreECC) facilitates collaborations to coordinate etiologic and molecular studies of esophageal squamous cell carcinoma in East Africa.

Accelerating Research in Genomic Oncology (ARGO), part of the International Cancer Genome Consortium, obtains genomic data, paired with clinical and health information on cancer patients, with the ultimate goal of delivering precision oncology knowledge worldwide.
The African Breast Cancer - Disparities in Outcomes (ABC-DO) study is a within-Africa, multi-country study of factors that affect breast cancer outcomes for patients at public hospitals across different sub-Saharan African settings

The African Hepatopancreatobiliary Cancer Consortium (AHPBCC) investigate influences of lifestyle, environment, viral and host factors on hepatopancreatobiliary cancer development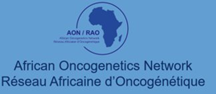 The African Oncogenetics Network (AON) is a network of African Institutions and international partners working to design and implement cancer genetic testing strategies in Africa.

H3ABioNet is a Pan African Bioinformatics Network for the Human Heredity and Health in Africa (H3Africa) consortium

Aggressive Infection-Related East African Lymphomas (AI-REAL), is a collaboration between clinical and academic institutions in Tanzania (Muhimbili National Hospital, Kilimanjaro Christian Medical Centre, Muhimbili University of Health and Allied Sciences), Uganda (St Mary's Hospital, Lacor) and the UK (University of Oxford) that aims to assess the accuracy of two low cost novel technologies (for diagnosing EBVL in East African patients aged 3 to 30 suspected of having the condition

The Human Heredity and Health in Africa (H3Africa) Initiative, aims to facilitate a contemporary research approach to the study of genomics and environmental determinants of common diseases with the goal of improving the health of African populations